Plant City Chamber of Commerce Salute to Agriculture - Ray Clark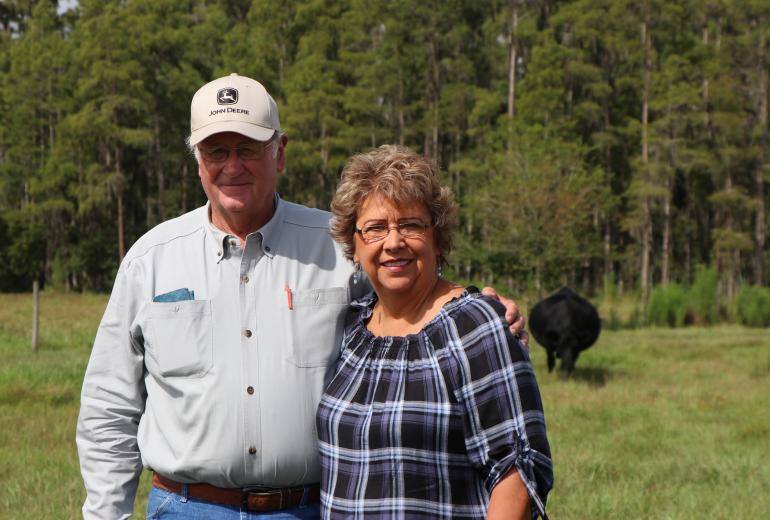 Ray Clark, Supporter of Youth in Agriculture
Farm Credit of Central Florida is a member owned cooperative. As a cooperative, we follow the seven cooperative principles, one of which is concern for community.
We support the communities we serve and the people and businesses who we do business with, who too have concern for their communities.
Farm Credit is a proud sponsor of the Plant City Chamber of Commerce's Salute to Agriculture Awards Luncheon. The Chamber honored two Farm Credit members and a business who offers our point-of-sale equipment financing, Farm Credit Express, for their commitment and support of Plant City's community and agriculture.
Plant City born and Lakeland raised, Ray Clark attended Kathleen High School where he was an FFA officer and showed steers. His family milked cows, grew their own vegetables and had orange groves. After high school, Ray attended Polk Jr. College, now Polk State, where he received a two-year degree before earning his bachelor's in agricultural education from the University of Florida.
Ray interned at Plant City High School in the Agriculture department, where he later became a full-time teacher, upon completion of a successful internship.
Ray's brother, Jay, is a past president of Federal Land Bank, which later became Farm Credit. Prior to Jay's presidency, Homer Thompson was the president of the Federal Land Bank. Mr. Thompson introduced himself to Ray a few years into Ray's teaching position and asked him to join Federal Land Bank as a Production Credit Officer.
Ultimately, Ray declined the offer and decided to continue with his passion of teaching agriculture to kids. Ray taught for 36 years, serving as a department head for 20 years and overseeing the largest agriculture department East of the Mississippi River. At one point, there were eight agriscience teachers and three FFA chapters all housed at Plant City High School.
Ray takes pride in watching his students' successes. He taught 30 individuals who now teach agriculture themselves, 23 state FFA officers, five national FFA officers, and candidate for Florida Attorney General Ashley Moody.
"FFA was my life as an ag teacher," Ray recalls of his experiences with the kids he taught, and events he attended to support his students and represent them.
Today, Ray owns 340 acres and has cattle that keep him busy when he is not supporting the community.
Since retirement, Ray has been extremely involved in the community, serving on the FFA Foundation board, the Farm Credit nominating committee, a past president and current vice president of the Polk County Cattlemen's Association. He is an inductee to the FFA Hall of Fame and the Kathleen High Hall of Fame. He is the first Agriculture Educator of the Year recipient for Plant City. Ray serves as a member of the Florida State Fair steer committee, the Strawberry Festival steer and swine committees, and an involved member of his church.
Ray supports youth in agriculture and has taught those who went on to become leaders in their community. Today, Ray's two children and three grandchildren are involved in agriculture and look up to him.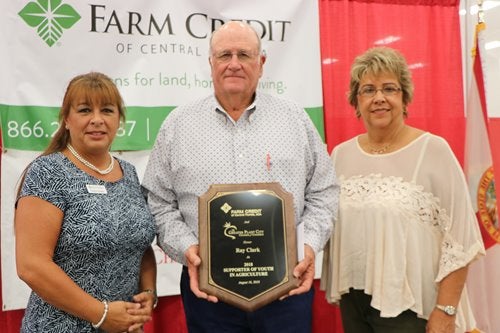 Ray has a history with Farm Credit beyond being the recipient of the 2018 Supporter of Youth in Agriculture award at the Plant City Salute to Agriculture Luncheon. His father bought 640 acres with financing from Farm Credit. In 1973, Homer Thompson of Federal Land Bank invited him to the first Plant City Strawberry Breakfast that the bank sponsored. He has been attending since. Also in 1973, Ray received a Home Loan with the Federal Land Bank. Later, his son and his daughter-in-law received a home loan from Farm Credit as well.
"Farm Credit has been a part of my life for a long time," Ray said.
Farm Credit of Central Florida appreciates and values Ray Clark as a member and longtime friend of the Farm Credit System.
Back To Blog