NOTICE: This is Farm Credit of Central Florida's general privacy policy. Click here for information specific to the California Consumer Privacy Act.
At Farm Credit of Central Florida, we recognize your expectation of privacy and confidentiality of personal financial information when seeking the assistance of outside professionals to obtain credit. We have taken great care in establishing and implementing policies and procedures and have committed to an ongoing review of those policies and procedures to protect your personal and financial information. Your privacy is a top priority in all aspects of our business. Our employees are informed of their responsibility to protect your confidential information and are governed by strict standards of conduct, which prohibit unauthorized use of your information. Security procedures and internal controls are also in place to protect your privacy. On this site, we collect personally identifiable information (such as name, address, SSN) only if specifically and knowingly provided by you. We do not give, sell or transfer any personal information to third parties, unless required by law or under such other permissible purposes as set forth by regulation.
Information Collected and Stored Automatically
On our website, we collect and store information about your visit for security reasons, as well as for site research and enhancement. We do not track or record information about individuals and their visits. Through the use of Cookies (a file placed on your hard drive by a Web site that allows it to monitor your use of the site), we automatically collect and store only the following information about your visit:
Your internet domain (for example, "xcompany.com") if you use a private Internet access account and IP address (an IP address is a number that is automatically assigned to your computer whenever you are surfing the Web) from which you access our site
The type of browser and operating system used to access our site
The date and time you access our site
The pages you visit
If you linked to our site from another Web site, the address of that Web site
Information Collected from Emails and Web Forms
If you complete one of our interactive forms or submit an email through our website, your information will be used as described at the point of collection. It may be seen and used by Farm Credit employees, but will not be provided to any non-affiliated third parties. If you are not comfortable providing the requested information via email or web forms, please contact us by calling 863-682-4117, or by writing to us at 204 E. Orange St. Suite 200, Lakeland, FL 33801. We will not obtain personally-identifying information about you when you visit our site unless you choose to provide such information to us. Farm Credit limits the use and collection of all information to that which is necessary to maintain and administer financial services, provide excellent service, and offer new products and services that may be of benefit to you. If, for any reason, you would like to be removed from our distribution list, please contact us at the number or address indicated above, or by sending an email to marketing@FarmCreditCFL.com. We may use third party suppliers and/or service providers to facilitate our services. For example, we may outsource one or more aspects of our site to a supplier or service provider who performs services according to our requirements. In all cases, we restrict how these suppliers or service providers may access, use or disclose your information. In general, we do not permit these suppliers or service providers to retain, disclose or sell your information to third parties.
Security and Intrusion Detection
For website security purposes and to ensure that this site remains available to all users, traffic on the site is monitored to identify unauthorized attempts to upload or change information or cause disruptions or damage. Unauthorized attempts to upload or change information on this website are strictly prohibited and may be punishable under the law.
Guidance for Our Customers Against E-Mail and Internet-Related Fraudulent Schemes
E-mail and Internet-related fraudulent schemes, such as "phishing" (pronounced "fishing"), are being perpetrated with increasing frequency, creativity and intensity. Phishing involves the use of seemingly legitimate e-mail messages and websites to deceive consumers into disclosing sensitive information, such as bank or loan account information, Social Security numbers, credit card numbers, passwords, and personal identification numbers (PINs). The perpetrator of the fraudulent e-mail message may use various means to convince the recipient that the message is legitimate and from a trusted source with which the recipient has an established business relationship. Techniques such as a false "from" address or the use of seemingly legitimate company logos, web links and graphics may be used to mislead e-mail recipients. In most phishing schemes, the fraudulent e-mail message will request that recipients "update" or "validate" their financial or personal information in order to maintain their accounts, and direct them to a fraudulent website that may look very similar to the website of the legitimate business. These websites may include copied or "spoofed" pages from legitimate websites to further trick consumers into thinking they are responding to a bona fide request. Some consumers will mistakenly submit financial and personal information to the perpetrator who will use it to gain access to financial records or accounts, commit identity theft or engage in other illegal acts.
Ways We Are Working to Protect Your Information from Fraud and Identity Theft
We will never send e-mail messages that request confidential information, such as account numbers, passwords, or PINs;
We will work to notify Internet service providers, domain name-issuing companies, and law enforcement to shut down fraudulent websites and other Internet resources that may be used to facilitate phishing or other e-mail and Internet-related fraudulent schemes directed towards our customers;
We maintain suspicious activity monitoring and employ additional identity verification controls;
We will offer our customers assistance when fraud is detected in connection with customer accounts; and
As appropriate, we will notify the proper authorities when e-mail and Internet-related fraudulent schemes are detected.
Additional Tips for Protecting Yourself from Fraud and Identity Theft
The safest approach is to immediately delete the e-mail from unknown sources, before opening the e-mail.
Avoid clicking on any links in an unsolicited e-mail, particularly e-mails that ask (either directly or by pointing to a website) for personal, financial, or identity information. Instead, directly type the website destination into your browser or use a trusted bookmark to verify the site or to log into your account directly.
Always access our website using a trusted bookmark of our site or by directly typing our website address into your browser. Check to ensure you have typed the address correctly before providing personal information on the site.
When using Digital Banking, check to ensure that the padlock icon appears in your browser's status bar. It indicates that your information is secure during transmission.
When you click on our Digital Banking log-in page, there is a "DigiCert" icon that will take you to a site indicating that "online.farmcredit.net" is a Secure Site and should display the following information: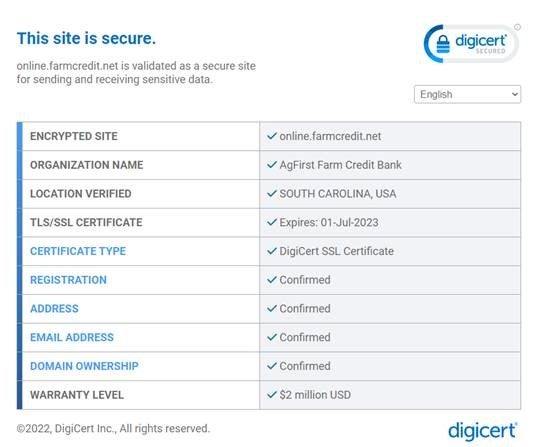 If you receive an e-mail that warns you, with little or no notice, that an account of yours will be shut down unless you reconfirm your billing information, do not reply or click on the link in the e-mail. Instead, contact the company cited in the e-mail using a telephone number or website address you know to be genuine.
You may also wish to contact your Internet Service Provider for support in blocking e-mails or subscribing to a "spam" or junk e-mail filter they may offer.
Ensure your home computer has adequate anti-virus software and remember to update it frequently.
Internet Safety Resources
Click below to view Internet Safety tips by professionals.
Tips from the Federal Trade Commission
 
Reporting Suspicious or Fraudulent Communications and Transactions
You should promptly report suspicious activity or e-mail communications to the Federal Trade Commission (FTC). Send the actual e-mail you received to uce@ftc.gov. If you believe you've been scammed, file your complaint at ftc.gov, and then visit the FTC's Identity Theft website ftc.gov/idtheft to learn how to minimize your risk of damage from identity theft. If you receive a suspicious message that appears to be coming from us, or discover a potentially phony Farm Credit of Central Florida website, please let us know by calling 863-682-4117 and asking to speak with our Security Officer, or by sending e-mail to info@FarmCreditCFL.com so that we may take appropriate action.
Weblinking & Children's Online Privacy Protection
Our privacy policy only addresses our activities from our website. This website is not directed at children nor do we collect any personally identifiable information from children. We may provide links to independent Web sites maintained by various federal agencies or other organizations, solely as a benefit to our customers. These other sites may have their own policies, which we do not control, and thus are not addressed by our policy. We do not endorse, approve or guarantee information, products, services, or recommendations provided at any of the sites to which we have provided links. We are not responsible for the content or accuracy of any of these links sites nor are we responsible for any loss or damage of any sort resulting from the use of a link on any linked websites. We are not liable for any failure of products or services advertised or provided on these linked sites. We offer these links on an "as is" basis. When you visit a linked website by using the link on our site, you will no longer be protected by our privacy policy or security practices. You should always familiarize yourself with the privacy policy and security practices of any website you visit.