Four Questions to Ask Before Buying Land to Farm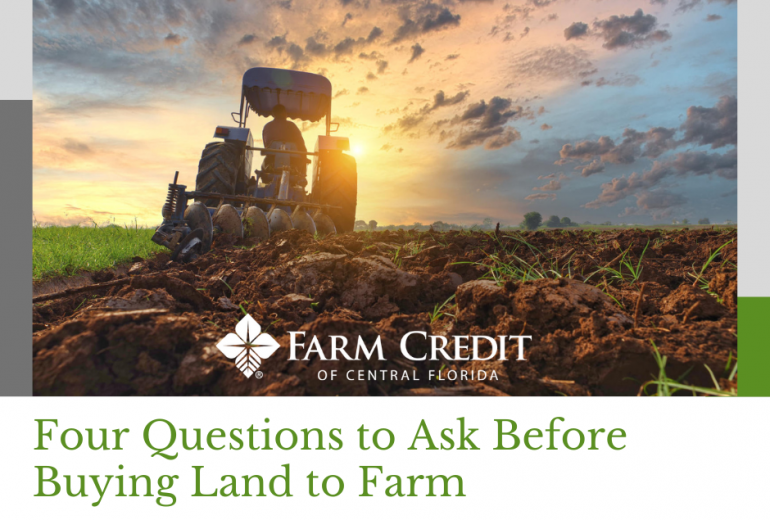 Finding the perfect acreage to start a farm is a once-in-a-lifetime opportunity for many rural property buyers. Whether you're searching for a large lot, small farm, timberland, or other bare land, knowing what to look for in a property and working with experienced professionals can help you avoid a lot of frustration and potentially costly mistakes.
Buying a piece of rural land is more complex than many people expect, so working with a real estate professional and a lender who is both experienced in rural property can make the process smoother.
Here are four questions to consider when you're thinking about buying rural land to start a farming business.
How will you use the land?
Before deciding on a property, you need to be clear about how you're going to use it over the entire timeframe you'll own it. 
Or are you looking for an investment in timber? If you're planning an agricultural enterprise, which type? An annual or tree crop? Livestock? Do you plan to build a primary or secondary residence as well? Without thinking through your long-term plans, you'll have a harder time finding the parcel.
Does the property meet your criteria?
Once you've identified how you plan to use your rural land, you can assess every parcel you're considering against what these plans will require. Beyond the location and terrain, which you can easily investigate, you'll want to do some research to ensure that: 
•    The soil will support the specific crops and/or structures you plan and presents no environmental hazards.
•    The water supply is sufficient and safe.
•    Access is available, and easements are not prohibitive. 
•    Local zoning rules allow what you plan to do in both the short and long term.
If you think you've found the right parcel for your plans, work with your lender and the real estate professional to ensure the title is clear and that the land's appraised value is in line with the sales price.
Will the land be profitable?
If you're buying land for any business purpose, you'll want to make sure that it will return a profit. Project your expenses, including any loan payments, and your revenue to determine if it's worth the investment. Even if you're buying land that you've been farming, it's important to put together a cash flow statement to estimate if you'll be able to earn the revenue you expect. An accountant can help you assemble the financials so you can be sure to make a wise purchasing decision.
How will you pay for it?
There's no question that land is expensive, and most buyers need outside financing to close the deal. Typically, you'll need to pay 20% of the sales price in down payment and then work with your lender to finalize other loan terms, such as the interest rate, fees, and term. 
Americans who are starting out in farming or buying farmland for the first time may qualify for a special loan program through the Farm Service Agency in conjunction with Farm Credit. This program requires just a 5% down payment with the remaining 95% financed by the two lenders for a 20-year term at lower-than-market interest rates. For farmers buying land they've previously leased, the loan payments will often be close to the previous lease payments, with the ownership bonus of growing equity and building financial stability over time. 
Buying land to begin farming can be both challenging and rewarding. Make sure that you check every aspect of the property, create a cash flow statement, and find the right lending and real estate professionals to help ensure that you're making a wise decision. 
Farm Credit of Central Florida provides financing for Farms, Homes, and Land. Call us today at 863-682-4117!
Back To Blog