Five Beef Recipes to Try!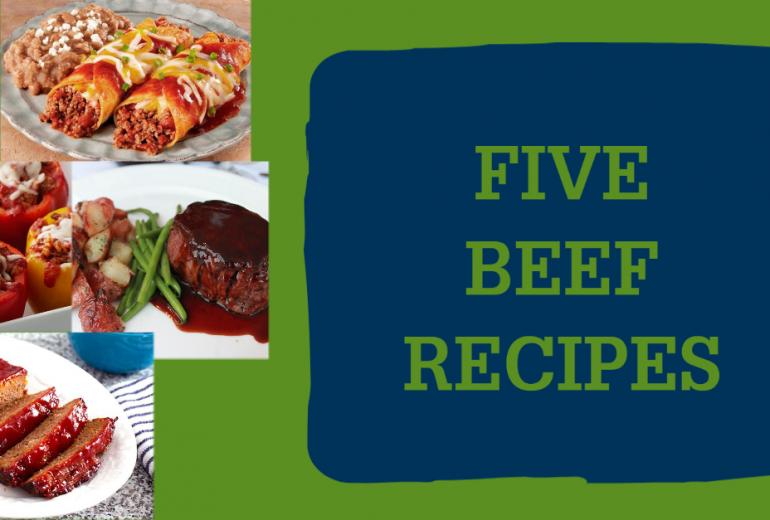 May is National Beef month! Check out these FIVE BEEF recipes! 
Beef and Broccoli
Prep Time: 10 minutes
Cook Time: 10 minutes
Yield: 4 servings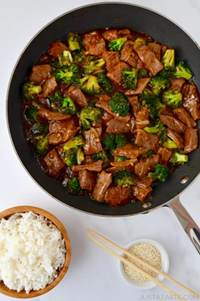 INGREDIENTS
3 Tablespoons cornstarch, divided
1 pound flank steak, cut into thin 1-inch pieces
1/2 cup low sodium soy sauce
3 Tablespoons packed light brown sugar
1 Tablespoon minced garlic
2 teaspoons grated fresh ginger
2 Tablespoons vegetable oil, divided
4 cups small broccoli florets
1/2 cup sliced white onions
INSTRUCTIONS
1. In a large bowl, whisk together 2 tablespoons cornstarch with 3 tablespoons water. Add the beef to the bowl and toss to combine.
2. In a separate small bowl, whisk together the remaining 1 tablespoon cornstarch with the soy sauce, brown sugar, garlic and ginger. Set the sauce aside.
3. Heat a large nonstick sauté pan over medium heat. Add 1 tablespoon of the vegetable oil and once it is hot, add the beef and cook, stirring constantly until the beef is almost cooked through. Using a slotted spoon, transfer the beef to a plate and set it aside.
4. Add the remaining 1 tablespoon of vegetable oil to the pan and once it is hot, add the broccoli florets and sliced onions and cook, stirring occasionally, until the broccoli is tender, about 4 minutes.
5. Return the beef to the pan then add the prepared sauce. Bring the mixture to a boil and cook, stirring, for 1 minute or until the sauce thickens slightly. Serve with rice or noodles.
Filet Mignon with Rich Balsamic Glaze
Prep Time: 5 minutes
Cook Time: 15 minutes
Servings: 2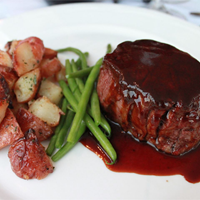 INGREDIENTS 
2 (4 ounce) filet mignon steaks
½ teaspoon freshly ground black pepper to taste
Salt to taste
¼ cup balsamic vinegar
¼ cup dry red wine
INSTRUCTIONS
1. Sprinkle freshly ground pepper over both sides of each steak, and sprinkle with salt to taste.
2. Heat a nonstick skillet over medium-high heat. Place steaks in hot pan, and cook for 1 minute on each side, or until browned. Reduce heat to medium-low, and add balsamic vinegar and red wine. Cover, and cook for 4 minutes on each side, basting with sauce when you turn the meat over.
3. Remove steaks to two warmed plates, spoon one tablespoon of glaze over each, and serve immediately.
Beef Enchilada Rancheras
Prep Time: 15 minutes
Cook Time: 30 minutes
Servings: 6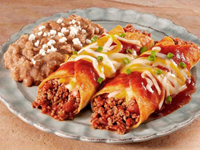 INGREDIENTS 
PAM® No-Stick Cooking Spray
1 pound ground sirloin beef
1 can (10 oz. each) Ro*Tel® Original Diced Tomatoes & Green Chilies, drained
1 can (29 oz. each) Rosarita® Enchilada Sauce
12 corn tortillas (6 inch)
2 cups shredded Cheddar and Monterey Jack cheese blend (2 cups = 8 oz.)
Sour Cream, optional
INSTRUCTIONS
1. Preheat oven to 375 degrees F. Spray 13x9-inch baking dish with cooking spray.
2. Cook beef in large skillet over medium heat 7 minutes or until meat crumbles and is no longer pink; drain. Add drained tomatoes and 1 cup enchilada sauce; blend well.
3. Place tortillas in damp paper towels; microwave on HIGH 1 minute or just until flexible. Place about 1/3 cup beef mixture evenly on each tortilla. Top each with about 1 tablespoon cheese. Roll up and place seam side down in baking dish. Top with remaining sauce and remaining 1 cup cheese, spreading evenly and covering tortilla edges.
4. Bake covered 30 minutes. Serve with a dollop of sour cream, if desired.
Classic Meatloaf
Prep Time: 10 minutes
Cook Time: 55 minutes
Serving: 10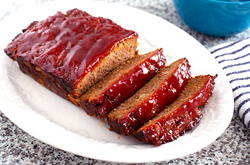 INGREDIENTS:
1 lb. 90% lean ground beef
1 cup dried bread crumbs
1/2 cup diced yellow onion
1/2 cup milk
1 large egg beaten
2 tbsp. ketchup
1 tbsp. Worcestershire sauce
1 tsp. dried parsley leaves
3/4 tsp. salt
1/2 tsp. garlic powder
1/4 tsp. ground black pepper
For the Topping:
1/4 cup ketchup
2 tbsp. packed light brown sugar
1 tbsp. red wine vinegar
INSTRUCTIONS:
1. Preheat oven to 350 degrees Fahrenheit.
2. In a large bowl, add the beef, bread crumbs, onion, milk, egg, 2 tablespoons ketchup, Worcestershire sauce, parsley, salt, garlic powder, and pepper. Use your hands to mush and mix these ingredients together until well combined.*
3. Add the meat mixture to a loaf pan. Pat the meat down into an even layer.
4. In a small bowl, add 1/4 cup ketchup, the brown sugar, and vinegar. Stir to combine. Pour the sauce on top of the meatloaf and spread it into an even layer.
5. Bake uncovered for 55 minutes.
6. Let the meatloaf rest for 8-10 minutes before serving (or it may fall apart).
Stuffed Peppers
Prep Time: 15 minutes
Cook Time: 25 minutes
Serving: 4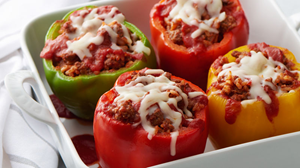 INGREDIENTS
4 large bell peppers (any color)
1 lb. lean (at least 80%) ground beef
2 tablespoons chopped onion
1 cup cooked rice
1 teaspoon salt
1 clove garlic, finely chopped
1 can (15 oz.) tomato sauce
¾ cup shredded mozzarella cheese (3 oz.)
INSTRUCTIONS 
1. Heat oven to 350°F
2. Cut thin slice from stem end of each bell pepper to remove top of pepper. Remove seeds and membranes; rinse peppers. If necessary, cut thin slice from bottom of each pepper so they stand up straight. In 4-quart Dutch oven, add enough water to cover peppers. Heat to boiling; add peppers. Cook about 2 minutes; drain.
3. In 10-inch skillet, cook beef and onion over medium heat 8 to 10 minutes, stirring occasionally, until beef is brown; drain. Stir in rice, salt, garlic and 1 cup of the tomato sauce; cook until hot.
4. Stuff peppers with beef mixture. Stand peppers upright in ungreased 8-inch square glass baking dish. Pour remaining tomato sauce over peppers.
5. Cover tightly with foil. Bake 10 minutes. Uncover and bake about 15 minutes longer or until peppers are tender. Sprinkle with cheese.
Back To Blog