New Year's Resolution: Record Keeping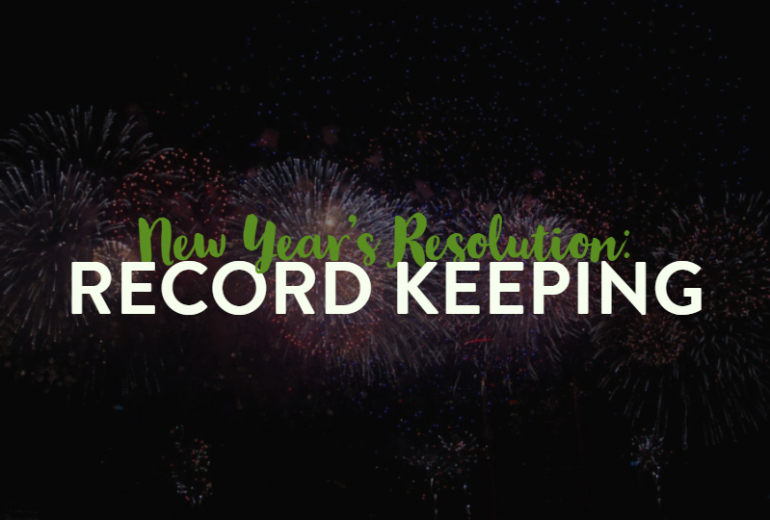 With the New Year upon us, many are setting resolutions. If it is not already on your list, add keeping good farm records to your list. 
Keeping records supports details and inventory when you need to purchase crop insurance or submit documents for loan requests, USDA filing and taxes.
What records should you have?
Income Information- Including most recent tax returns, W-2s, and 1099s.  Once you close out your QuickBooks or accounting records, be sure to save a year end detailed profit/loss and balance sheet for your accountant and loan officer.
Farm Documents – Purchase contract for land, sales invoices for equipment you have bought or sold (including serial numbers), collateral information, crop insurance policies, and list of equipment (including serial numbers, make/model, and location on farm)
Asset/Liability Information- Save bank statements, Account information (401K, IRA, etc.), Current Debt balances on each loan (house, equipment, land loan, credit cards, student loans, farm equipment) with payment amounts and schedules. 
Farm Production History- Actual production history records are essential.  Accurate production history and acreage is essential for both crop insurance as well as farm loans.
How long should you keep records?
The IRS suggests keeping records for at least three years, but many documents are often needed for up to seven years.  If you are audited, the IRS can go back three years but can additionally request an additional four years prior.  Property documents should be kept indefinitely. 
Where should you store documents?
With digital and paper file systems available, the best answer is what makes the most sense for your needs.  Many documents are available online and can be saved in a secure location under password protection.  If you have not already, sign up for Farm Credit's Digital Banking to have easy access to your account balance, billing, and everything in between.
When unexpected events occur, make sure your records are safe and/or you have a recovery plan.  If you store paper copies of documents, ensure they are in a locked fire-safe cabinet or safe.  If you use a digital system, make sure you use a backup system.  BlackBlaze and Carbonite are examples of two programs that run regular back-ups.  If anything happens to your computer, a safe back-up keeps your documents secure online and ready to download with ease. 
Not sure if paper or digital files are the right option for you? Many individuals keep a digital and hard copy of documents for a hybrid recovery plan.   
Organize your records
Properly organizing your records helps you find the right documents easily when needed.  Many individuals get into the habit of record keeping, but forget to go through documents.  Once a document is no longer needed, make sure to get rid of them.  Any documents that you would not want in the wrong hands should be shredded or carefully discarded to protect your information.   Creating a schedule of an annual record clean-out day can help you stay organized while also saving file space whether digitally or in your cabinet. 
Getting into the habit
Like all things, setting a routine can help you get into the habit of remembering to do the task.  As you get started, setting aside one day every so often to gather documents, organize them and clean out old documents can help you stay on top of your records and make the process less stressful. 
If you need any help acquiring documents regarding your crop insurance policy or your loans, call 863.682.4117 and ask for your loan officer.
Back To Blog