Hurricane Preparedness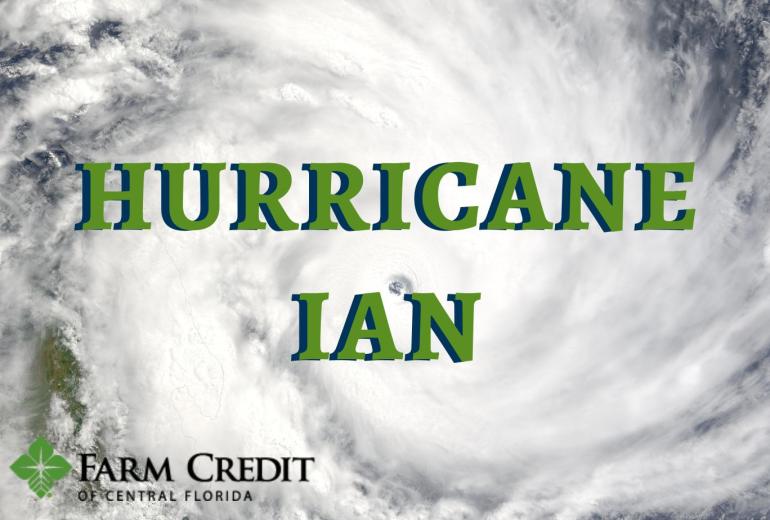 As we brace for the potential impact of Hurricane Ian, farmers and ranchers must be prepared.  The next few days are the perfect opportunity to ensure that your operation and your family are prepared for damages that may occur. 
Before the Storm
Follow best management practices to mitigate the damage as much as possible.  Take video or photographs before the storm of your operation including trees and fruit if applicable. 
Backup copies of your records by keeping a copy in hand readily available or having a secured copy of the document on your computer.  If adjusters are unable to determine total production, they may need past production and inventory records to help decide. 
Have a list of important contacts readily available.  This includes employees and their families, veterinarians, your Farm Credit of Central Florida loan officer or crop insurance specialist, and the Local Farm Service Agency. 
Be familiar with your crop insurance policy and ask your loan officer or our crop insurance specialist, Regina Thomas, any questions you might have regarding your policy and coverage. 
During the Storm
Safety is key.  Whether you are evacuated or staying at home, follow adequate procedures and follow updates from weather and emergency officials. 
After the Storm
Notify your crop insurance agent within 72 hours (3 days) of your initial discovery of damage.  Losses may be reported by phone or in-person to your Farm Credit of Central Florida crop insurance agent, however, it must be in writing within 15 days by email or letter.
Please note- you must obtain insurance companies' written consent before destroying, selling, or otherwise disposing of any fruit, trees, bushes, or plants that are damaged; changing or discontinuing your normal growing practices concerning care and maintenance of operation, or abandoning any portion of the insured crop.  For your claim to be settled as soon as possible, cooperate with the adjuster by showing them the damaged crop, allowing samples of the insured crop to be taken, and providing the adjuster with all requested documents promptly.      
Check on family, friends, employees, and neighbors.  Reach out to Farm Credit of Central Florida if we can assist you in any way post-storm. 
Back To Blog