Roberson Inducted into Florida Ag Hall of Fame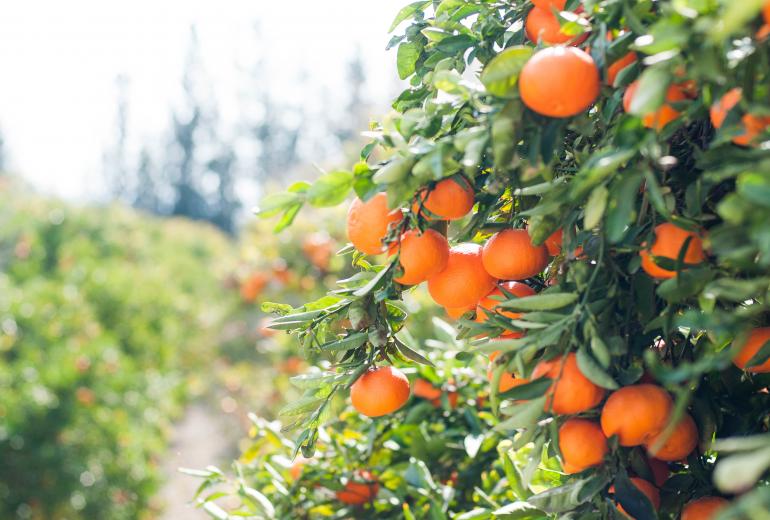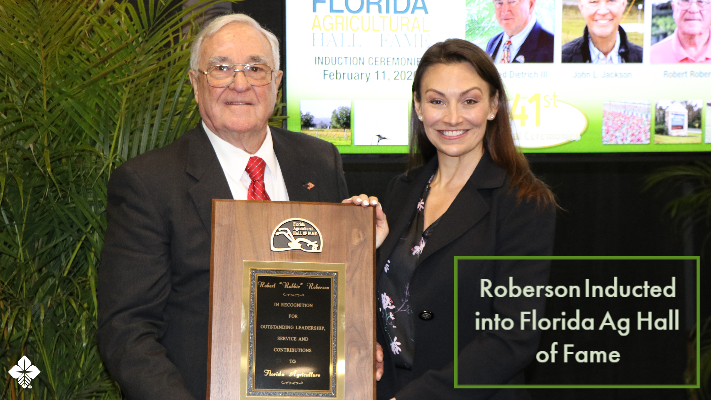 Retired Farm Credit of Central Florida Director Robert "Robbie" Roberson was recognized for his achievements and inducted into the Florida Agricultural Hall of Fame on Tuesday, February 11, 2020 at the Florida State Fairgrounds.
A nurseryman of over 40 years, Roberson was immensely involved in the industry.  Roberson was a founding member of the Florida Foliage Association, known today as Florida Nursery, Growers and Landscape Association (FNGLA).  In 1996, FNGLA's Action Chapter honored Roberson with its highest award, the Gene A. Batson Award, which recognizes members who show outstanding leadership and service to the chapter and the industry.  In 2001, FNGLA inducted Roberson into its Hall of Fame, recognizing his contributions to the nursery industry.
An advocate for research and education, Roberson played a vital role in securing funds and campaigning for the UF/IFAS Mid-Florida Research and Education Center (MREC) located in Apopka, Florida.  Roberson led efforts in securing over $14 million in funding for MREC.  A past chair for the MREC Advisory Committee, he continues to serve on the committee where he can dedicate his time to MREC and its mission.
 "He was the driving force that got this center here," says Randy Strode, Founder of AgriStarts and Farm Credit of Central Florida board member.
"Robbie knows how to build political capital and how to strategically spend it," adds Mark Byrd, colleague and friend of Roberson.
A plaque hangs on the wall at MREC as a reminder of the legislative actions and contributions Roberson put forth in getting the facility established.
Outside of MREC, Roberson has diligently served in various roles in both local and agricultural organizations.  A member of the National Council for Agriculture, Research, Extension and Training, Roberson spent two years serving as the chair of the Southern Region. In addition, he served as the president of the Florida Agriculture Council, and served Orange County as a representative on the Orange County Planning and Zoning Board, chair of the Orange County Commission's Agricultural Advisory Committee and a board of director for Orange County Farm Bureau. 
Roberson served on the Farm Credit of Central Florida board of directors for over 21 years before retiring in April of 2019.  Chair of the board from 2015-2018, Roberson was an integral member of the board and the Farm Credit family.
"He was instrumental in ensuring Central Florida agriculture, especially the nursery industry had access to funding during the Great Recession," says Farm Credit of Central Florida President and CEO, Reggie Holt.  "He was also active in making sure that we worked with growers to ascertain that they could continue operations."
We congratulate Retired Director Robbie Roberson on his outstanding accomplishments and his recent induction into the Florida Agricultural Hall of Fame.  Roberson has certainly left his legacy on the industry and will continue to for years to come.
Back To Blog