Behr Presented Citrus Achievement Award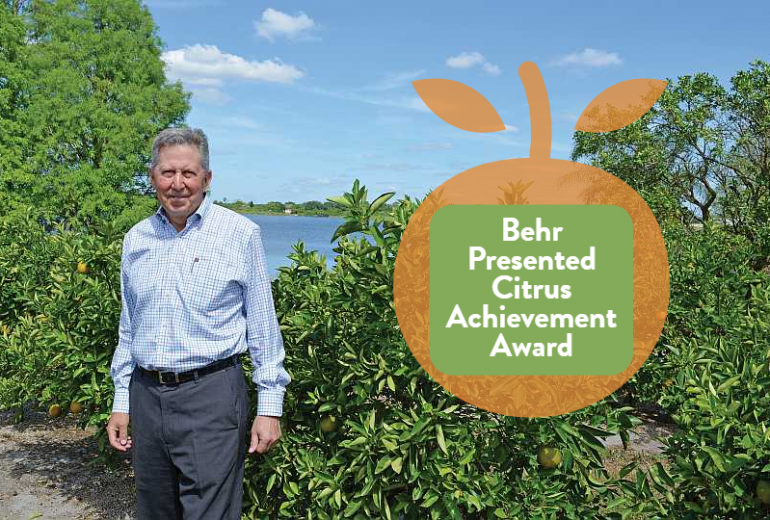 The 2019 Florida Grower magazine's Citrus Achievement Award recipient was Bob Behr, CEO of Florida Natural Growers, Director of Farm Credit of Central Florida and citrus grower. He was presented this award at the Florida Citrus Industry Annual Conference Banquet, which is hosted by Florida Citrus Mutual. Behr was recognized for his many leadership roles in the Florida citrus industry.
Bob Behr was born in the Orlando area and attended the University of Florida. In 1981, he received his doctorate degree in agricultural economics. In 1987 he became chief economist at the Florida Department of Citrus. In 1994, Behr joined Florida's Natural Growers, where he continues to enjoy a successful tenure.
Florida's Natural Growers is a juice processing cooperative that is located in Lake Wales. The cooperative is owned by 1,000 citrus growers and is the third-largest orange juice retailer.
With Behr's support and leadership, Florida's Natural Growers set up an incentive program to encourage growers to plant new orange trees following huge losses due to citrus greening. The program loans members $10 per tree with the understanding that the grower would commit to selling new production to Florida's Natural for 10 years. Once the 10 years is up, the loan is forgiven. Since the start of the Incentive program, there have been more than 1.4 million trees planted or scheduled to be planted. Behr has a passion for the citrus industry and has always been very supportive of growers.
Through the years, Behr has discussed how the grocery store refrigerators have changed. "These days you see teas and lemonades, at the end of the day Florida's Natural orange juice is and will continue to be our main product in the marketplace. We have to be willing to diversify and compete in that space if we are going to be viable for our customers."
While giving his speech at the Florida Citrus Mutual event, Behr said "I'm not an outgoing person. I'm pretty shy. I don't like being the center of attention, and I am not fond of speaking in public like this."
"The success that I have had is from others who I have worked with over the years." Behr recalled looking around the room seeing so many others that deserved Florida Grower Magazine's Citrus Achievement Award.
Behr discussed how important it is to be a grower first and then a manager. This has helped him understand the true challenges faced in the industry. Florida's Natural encourages all managers to be involved in growing citrus. Having that experience helps when making management decisions.
"With the knowledge Behr has in the citrus industry we are excited to use what he knows to benefit the citrus growers we have as customers," Reggie Holt, Farm Credit of Central Florida CEO, said.
Nothing has stopped Behr from being successful and doing what he is passionate about. Farm Credit of Central Florida commends Behr on the legacy he is leaving and for being a leader in the citrus industry.
Back To Blog