National Intern Day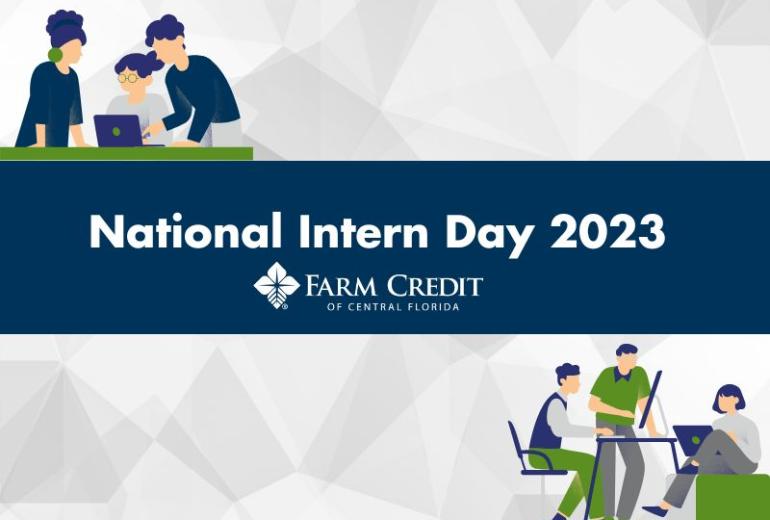 Happy National Intern Day to all past and present interns! National Intern Day was created in 2017 to thank interns for their hard work, bring attention to the challenges many interns face, and encourage organizations to invest more in their current or future internship programs. Internships are an excellent way for current college students, as well as graduated students, to test the professional waters as they enter the workforce with their newfound knowledge and skills.

For the past 6 weeks, Farm Credit of Central Florida has hosted four interns that have rotated through various departments to learn more about the association's lending processes and financial services. They had opportunities to get hands-on experience working on real projects. Not only have they learned more about the association that strives to promote and support agriculture, but they have also gained skills and knowledge that can be used in their daily lives. 

In addition, they also had the opportunity to help with our youth outreach at the annual Florida FFA Convention and volunteer with a local non-profit organization called VISTE. While at VISTE, they helped sort and package food items for elderly members of the community that have a hard time getting necessary food and hygiene products. 

Here are a few words from our interns on their experience:

Coley Riley:
"As an intern at Farm Credit, I have loved meeting all the friendly and knowledgeable people I am working with. This internship has given me the opportunity to float between multiple departments and gain hands-on experience with each.  I cannot begin to express my level of gratitude for this opportunity!"
Hailey Bladek:
"I look forward to a future here with Farm Credit, and so far, it has been nothing short of amazing. My last few months here with Farm Credit has consisted of the appraisal, marketing, processing, and accounting departments in which I have had the opportunity to learn so much and meet so many great people. I have created social media posts, went on a ride-along to do a collateral assessment, learned Mail Merge, input loans, and so much more! I have looked up to Farm Credit since a young age and now I am here as an intern. The company is amazing to work for and has a good backbone of employees."
Bailey Fussell:
"I've absolutely loved my time here as an intern at Farm Credit of Central Florida. The abundance of knowledge I have gained during my time here is irreplaceable. However, what has impacted me the most is the people. From the beginning, they have made me feel at home, encouraged me, and gone out of their way to help me. They have made this a worthwhile experience. I am honored to have been able to work with and learn from them."
Alisa Fine:
"I have loved this internship because it has allowed me to experience all the different departments within a business. I have especially enjoyed getting a better understanding of the interdepartmental collaboration required to sustain a successful and efficient credit firm. The Farm Credit of Central Florida internship opportunity has given me a vast amount of knowledge and clarity about the careers I may want to pursue in the future!"
Back To Blog