Frozen Strawberry Complex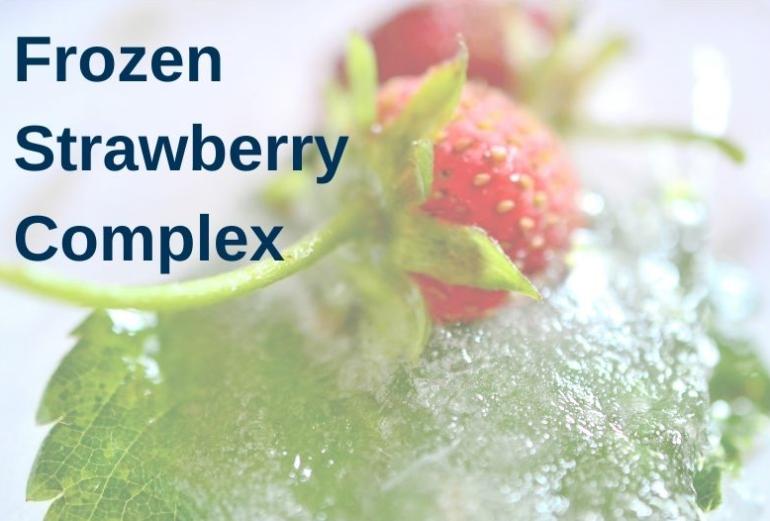 Florida's strawberry season has officially kicked off, with USDA already reporting a few truckloads moving to grocery stores. While we eagerly anticipate picking up some of those fresh berries in the produce section, it will be a little bit before harvest is in full swing. So, in the meantime, let's take a minute to discuss an aspect of the industry most might not consider very often: the frozen strawberry complex. Americans are blessed: most of us can access multitudinous fresh fruit varieties year round, including strawberries. But what if you can't get a hold of a grocery carton, let alone a fresh flat from a roadside stand? Frozen it is.
The frozen strawberry complex is an important aspect the overall industry. Frozen strawberries are easily transportable, can be stored for lengthy time periods with refrigeration, and maintain taste. Producers and marketers often have excess supplies of perishable berries with no buyer – processing them for freezing opens up another revenue stream for what might otherwise go to waste. In order to assist the industry in forecasting (and economists in analysis) the USDA conducts a Cold Storage Survey which reports on strawberries in addition to poultry, dairy, and other perishable commodities that are refrigerated. The data we have is very noisy, as stocks get dumped into storage and then sold off and rapid build ups occur especially towards the end of each regional harvest season. Domestic strawberry acreage peaked in 2013, and production in 2018, so surplus berries that could be put towards freezing had been on the decline leading up to the discovery of coronavirus. Ironically, the lowest inventory total since 1990 was February 2020 – the month before pandemic lockdowns! Fortunately, Florida's strawberry season ending in the spring helped refill inventories and a crisis was averted. Thankfully, our frozen strawberry reserves are slowly building again, but you could be wondering – which strawberries end up in the cold section at your local grocery?  

While some might think that frozen strawberries are primarily of lower grade than fresh pints, this is not the case. Like many other commodities, the USDA has extremely stringent quality requirements for frozen strawberries that cover metrics such as berry size, color, stem, seed quantity, firmness, smell, and even taste! 

Across the country industrial kitchens utilize bulk pails of berries in light syrup or sugar to delight customers with pastries, snacks, dressings, and especially smoothies. A consistent market for product, however, are America's schoolhouses. The USDA purchases bulk orders of frozen strawberries for its "Foods in Schools" program that are sent to cafeterias as diced berries packed in cups with light syrup, 30 lb pails in syrup, and in unsweetened 5 lb bags. This helps guarantee not only that our country's children are fed nutritious fruit in their lunch programs, but also to make sure the berries are provided by American farmers.     
Besides being a healthy snack for America's youngsters and an additional option for excess supply, frozen strawberries are also exported. While  not a substantial revenue stream compared with the overarching industry, US has exports play a material role, averaging about $53 million per annum since 2012 and even eclipsing $60 million on multiple occasions . 

Typically, Canada makes up the majority of the export market, followed by Mexico, Japan, South Korea, and a few rotating Middle Eastern countries. What we see from the data, however, is that American strawberry exports are tied closely with production and domestic stocks: that is, most of our berries stay in the good ol' US of A. While it is true some berries get left in the field, American producers do all they can to assure that nothing is wasted. This means that the fresh market remains dominant, followed by freezing for industrial and institutional use, and lastly we export what remains. 

So, while we wait in eager anticipation for those fresh 2023 Florida strawberries to hit the produce section, just remember the important role America's freezers play to help us enjoy our favorite foods year round. 
 
Back To Blog