Blog Series: Part 1 of Considerations to Make Your Farm Business Successful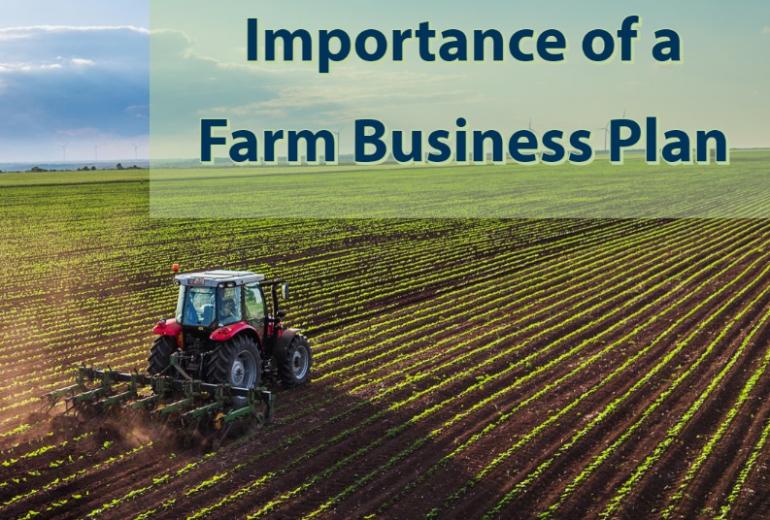 Importance of a Farm Business Plan
Introducing a new blog series. This is the first of a four-part blog series full of valuable information for your farm business. 
Planning plays a vital role in the success of a farm or any business entity for that matter.  Whether you're a beginning farmer or an experienced farm operator, having a good business plan is a crucial component for your operation.  A business plan creates a clear road map in order to keep you on track for success. If you're a beginning farmer, it also sets the foundation for how to structure, run and grow your new business. Think of the business plan as your step-by-step guide. 

For those operating a family farm, considerations must be made for the next generation of ownership, and a business plan can serve as a tool to educate the next generation about what goes into running a successful business. As most experienced farmers know, farming has become much more complicated in comparison to what farming was like 100 years ago. One wrong decision can have disastrous consequences, creating the need for good business planning. A good business plan will consider potential changes in the market to meet consumer demand and the resources needed for continued success. 

When building a business plan, it is important to take the time to think about your short and long term goals as well as the steps that need to be taken to achieve them. Additionally, consider what your financial needs will be in order to start your farm business and what income is necessary to remain profitable. For this reason, business plans are commonly used to obtain funding as well. In fact, investors rely on business plans to decide the feasibility of a business before funding it.

Throughout this process, it is equally important to be clear when laying out your thoughts and consider your audience, as your business plan may be used to communicate your plans to partners, employees, lending institutions or other stakeholders in your farm business.

A good business plan is realistic, specific and complete. Business plans, should be clearly written and include your goals, product or service information, strategy, marketing plans, organizational structure and lastly financial analysis. Remember a business plan is a work in progress and not an end product. As a result, farm operators should revisit their business plan regularly to ensure it continues to accurately represent their business. 

With a solid business plan you will be better prepared to overcome challenges and diversity in a volatile Ag industry. To get started, here are some detailed tips on how to write a business plan. 

At Farm Credit of Central Florida, we provide financing for farms, land and homes. For more information visit us at www.farmcreditcfl.com or call us at 863-682-4117.
Back To Blog