Barndominium Home Basics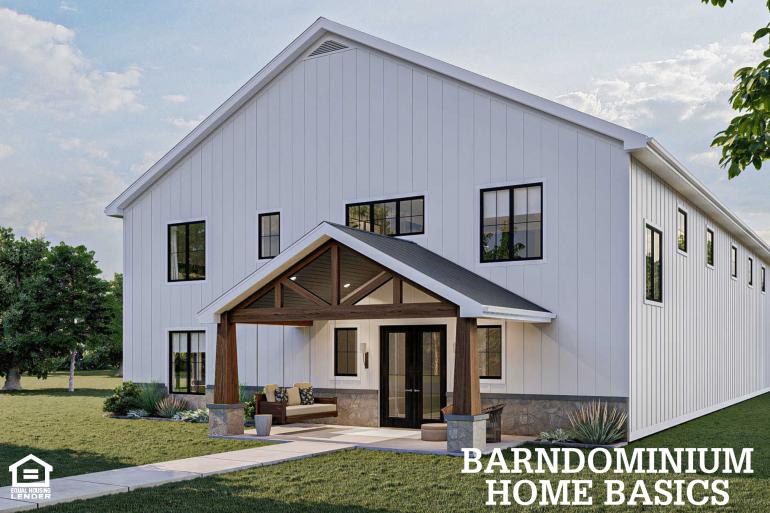 Are you looking to build a home soon? Have you heard the term Barndo, Barndominuim, or Barn home? These terms are gaining popularity amongst rural homeowners looking for alternatives to traditional built homes, and are becoming the latest real estate trend. A barndominium is essentially a steel building similar to a barn that encompasses living quarters and a workshop under a single roof.  For the installation, Barndos come as a prefabricated shell kit to do it yourself, or you can hire a turnkey builder to complete the home. The kits are available in a variety of styles and designs, from small cabins to modern homes.
There are several advantages to building a barndominium in Florida. To start, they are generally easier and cheaper to construct. The erection of most barn shells is complete in a matter of weeks.  Barndominiums have low to no external maintenance requirements. The metal siding of the pole structure is more durable and easier to clean than wood slat siding or brick. It also doesn't need to be repainted with every season. 
The rugged exterior fits in quite nicely in rural areas and farming communities due to its resemblance of a barn. However, most interiors are no different than what you would see in a conventional home. Additionally, the steel frame construction offers room spans of over 30 feet.  For this reason, the barndominium can provide open concept living spaces to fit all of your needs.  
Unlike barns purely made of wood, these metal structures can withstand strong winds and debris during storms. The durability of the material can help lower your insurance rates. The other advantages to steel structures are that they won't rot or suffer damage caused by pests and is fire-resistant. Metal roofs are estimated to have a 40-70 year lifespan while shingles average 25 years.
Like a conventional home, the construction cost of a barndominium varies depending on the style and type of building you choose as well as design elements, quality of materials, and the general contractor you hire. Make sure you partner with a trusted contractor. 
Building a new home is a major decision. Therefore it is vital to take the time to weigh the pros and cons of various options. Once you have considered all of the options, the next steps include securing financing.  However, many aspiring barndominium owners are met with hesitancy from most commercial banks in financing the project. At Farm Credit of Central Florida, we specialize in financing rural homes, including barndominiums. For more information, visit us at www.farmcreditcfl.com or call us at 863-682-4117.

All home lending products are subject to credit and property approval.  Certain restrictions and limitations apply; not valid in conjunction with other offers.
Looking for design ideas, please see links below:
https://www.barndominiumlife.com/floor-plans/
https://www.houseplans.com/blog/the-new-guide-to-barndominium-house-plans
 
Back To Blog